The Maldives would be the first of the countries that come to mind when talking about a beach vacation. The country straddles the middle of the Indian Ocean and comprises more than a thousand islands. Two hundred of these islands are inhabited and almost half of the others are used as holiday resorts. One of the Star Wars franchise movies that was shot here is "Rogue One: A Star Wars Story", the Maldives received a huge boost in recognition after the film was shown. If you're interested in bringing your next film production to the Maldives, Mbrella Films have producers who can help make your production process easier and run smoothly from the permitting process till you wrap it up!
The Maldives could be the perfect home for your film production if you're looking for vacation scenery, beaches, underwater scene, and resorts. The equipment and crew here are reliable and ready to get on board in every production. Mbrella Films can provide you with diverse producers who have over 10 years of experience in film production. They can assure you that your film production in the Maldives will get no trouble in their hands.
Filming Locations in the Maldives
With its specific scenery from the locations, the Maldives can provide your film production, making it one of the countries that not many blockbuster-tier movies would choose as their destination. However, if it comes to the vacation theme, relaxing sandy beaches, extraordinary underwater scenes, and fancy resorts you can't find any place like the Maldives that is perfect for your film production. If you are looking forward to bringing your production to Maldives for those landscapes, you're in the right direction.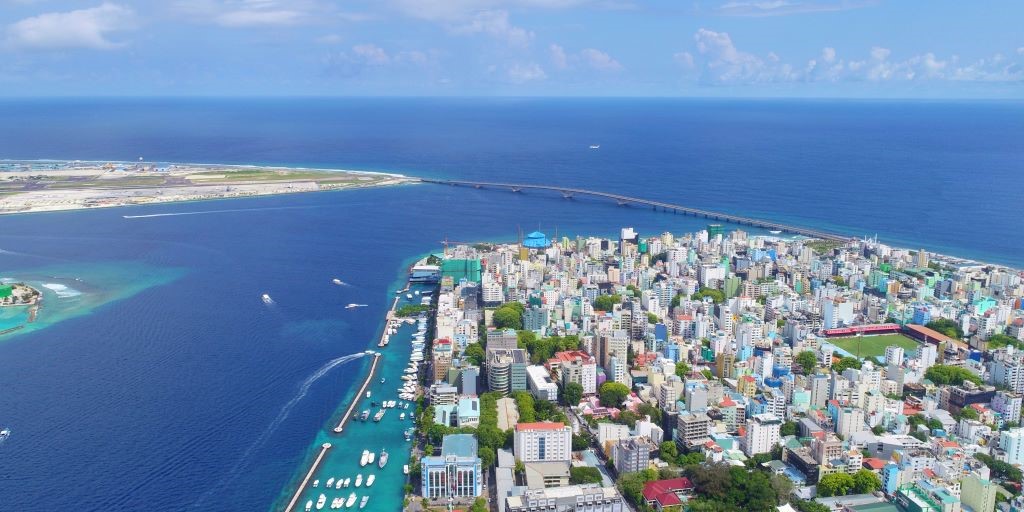 You wouldn't think that the Maldives would have this kind of crowded city. This is Malé, the capital city of the Maldives consists of a central island, an airport island, and four other islands governed by the Malé City Council. If your next film production is looking for an island country landscape, you should consider Malé in it.
Lamuu Atoll is mostly rimmed by barrier reefs, the broadest of which is topped by islands. There are many islands along its eastern and southern boundaries. The island is filled with palm trees and sandy beaches. "Rogue One: A Star Wars Story" was shot in Lamuu Atoll for their climax scene and turned the island into the planet Scarif.
Sea at Anantara Kihavah Villas
At Anantara Kihavah Villas, from your over-water villa, you can actually head underwater to the restaurant named Sea. The mirrored interior reflects the surrounding Indian Ocean sea life as you dine on European cuisines. A unique romantic date or a fancy dining scene would be great to film in this location.
Another great location for filming in the Maldives is Gnaviyani Atoll. Based on the surface, this is the smallest administrative unit in the Maldives. That long white sandy beach would look great in any film production. If used in the most creative way, you can turn this island into a stranded island or maybe another planet like "Rogue One: A Star Wars Story" did.
Baa atoll consists of two roughly circular sub-atolls, separated by the narrow Kudarikilu Kandu channel. You can find countless sceneries of the underwater world here, from coral reefs to manta rays and dolphins. If your next film is related to any underwater landscape, Baa Atoll is the best choice for that.
Film Equipment and Crew in the Maldives
There are small but good pools of crew in the Maldives, they're reliable and have experience in film production. All Standard gears, grips, and light equipment are ready for you to pick up. Top-tier cameras like REDs, Arris, and many more must be brought from abroad. Mbrella Films can help make that process go through easier and quicker with our English-speaking producers who have worked in numerous film productions. They will also walk you through every step of the production process from pre- to post-production in the Maldives.
Budget for production in the Maldives
With the country being an island the transport to the country takes quite a bit of the budget, not to mention the transport of gear and other equipment. Our producers will break down your line budget at every step of the production process and make sure you know where your money goes. Feel free to contact us via the form below if you are interested in bringing your production to the Maldives. Mbrella Films is here to help you in every step of the production process.