Aruba is a small island located in Europe that is filled with numerous scenery you can get from one island. The country consists of scenic sandy beach seascapes and rolling hills with cactus-strewn landscapes on the island. If you want to shoot your movie here, the island can expect clear, sunny skies all year with the country having dry climate and arid weather. The film production relates to the vacation theme, seascapes, and the arid area with cactus strewn. Aruba might be the perfect location for your film production. You can also use it in more creative ways like a stranded island or action-adventure theme movies with island backgrounds. Mbrella Films can make that happen by helping you with the permitting process and any process after that through the whole production process. Although there is no official film permit, having a letter of support from relevant government authorities is helpful when seeking permission to film around the island. Our team can get it done and get your production off the ground in no time!
Bringing your production to Aruba would be great for your production, especially TVCs and feature films, it'll give you an impressive look for your production. Mbrella Films can provide you with diverse English-speaking producers with over 10 years of experience in film production. Read on to find out more about where the best locations are for your next film production in Aruba.
Filming Locations in Aruba
Being a small island doesn't stop Aruba from being one of the countries that have a lot of scenery for any type of film production. You can find at least two main landscapes of sandy beaches and a dry, arid island with cacti in multiple areas. If you're interested in bringing your production to Aruba, you should check these lists of locations out.

Palm Beach is a tourism district, northwest of Oranjestad, the capital of Aruba. A few high-rise hotels are located there. The beach is famous for its clear water with white sandy beaches, which would look spectacular in any type of film production. On top of that, you can expect clear, sunny skies all year long on this Palm Beach.

Oranjestad is the capital and the largest city in Aruba, located on the southern coast near the western end of the island country. If you're looking for a local cityscape by the sea, Oranjestad would be a perfect choice for your next film production.
Santa Cruz is a town in central Aruba, and most of the area is rolling hills with cactus-strewn landscapes. Also, the town has lands that are connected to the sea, imagine a beach with cactus-strewn not far ahead. Your film would look unique filming in Santa Cruz, Aruba.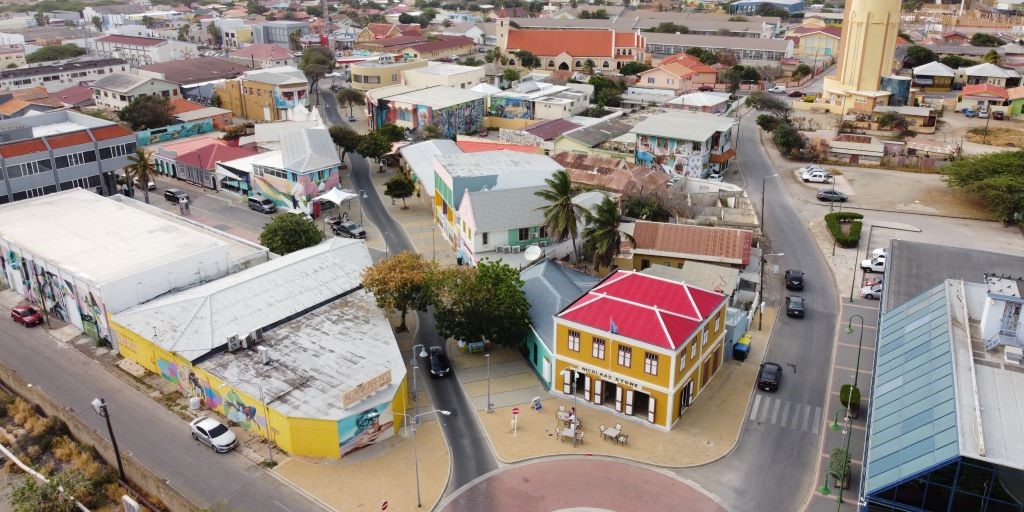 San Nicolaas is in the southeast of Oranjestad and is Aruba's second-largest city. The local people who live here most originate from the British Caribbean and the rest of the Caribbean. It's another city that you should consider when filming in Aruba.
How many countries can offer this kind of scenery for your film production? Antilla was built for trade between Germany and the Caribbean, and it sank in 1940. Antilla is a popular dive site and has been popular for penetration diving. The site of this wrecked ship would look extraordinary in your next film production.
Film Equipment and Crew in Aruba
Aruba has a small pool of directors and other crew; Mbrella Films can provide you with an English-speaking crew to make your project move forward efficiently in Abura. They have in-depth creativity and have worked on countless film productions for more than 10 years; they're going to help you bring out the best in your film production. If you're interested in bringing your project to Aruba, don't hesitate to contact us anytime.
Budget for production in Aruba
As the key crew and ideal brand of cameras must be brought from abroad, filming in Aruba might cost you a little more than in other countries. However, many scene options in Aruba can't be found in any other countries. Mbrella Films has experienced producers that will take care of your line budget to be precise in every step of your production. Feel free to contact us via the form below if you're interested in bringing your production to Aruba, Mbrella Films is here to get you covered.