The Bahamas is an archipelago of Caribbean islands consisting of 700 islands and over 2,000 rocks and cays, north of Cuba and southeast of Miami. The country has always had a certain dreamy ring to it, but it takes its reputation as a film-friendly location very seriously. As blockbuster-tier movies such as "Pirates of the Caribbean: Dead Man's Chest", "Pirates of the Caribbean: At World's End" and "Casino Royale" were all shot in the Bahamas. The country is known for its Paradise Island looks of beautiful beaches, turquoise waters, British colonial looks, colorful architecture, and historic buildings. Also, their underwater landscapes and coral reefs are very famous among tourists too. The permitting process in the Bahamas is a very straightforward process, so your production will be ready to hit the road fast!
The Bahamas has the potential to be your next film production, from the location to the permitting process, that is not complicated at all. Mbrella Films can provide you with diverse producers who have over 10 years of experience in film production. They know every in and out of the production process and can assure you that your film production in the Bahamas will run as smoothly as possible in their hands.
Filming Locations in Bahamas
If your film production is searching for locations such as beautiful white sandy beaches, private islands, turquoise waters, and stunning underwater sceneries, the Bahamas is the perfect destination. With its 700 islands, there is much more to explore beyond what's been mentioned.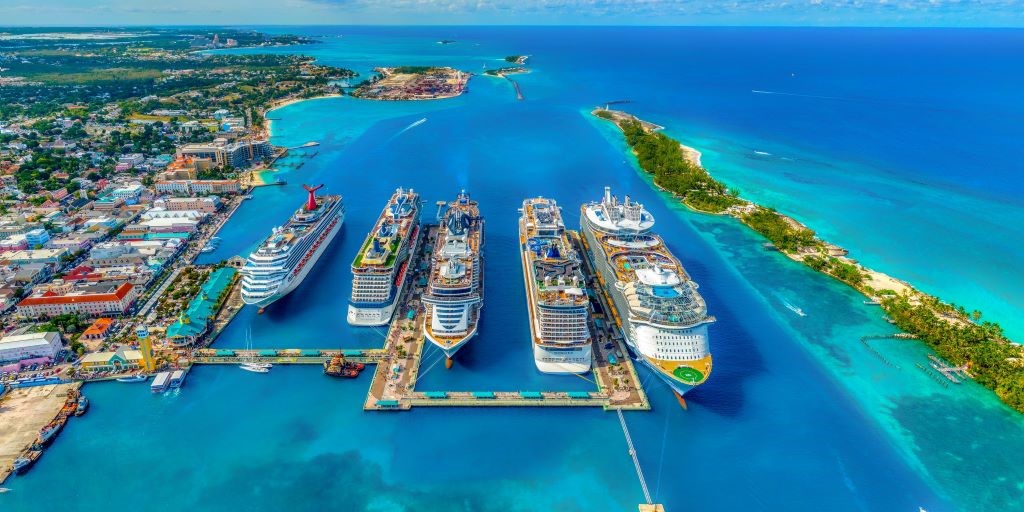 Nassau, the capital and largest city of the Bahamas, is home to over 70% of the country's population. It serves as the center of commerce, education, law, administration, and media. The city can be easily accessed by air or sea, with an airport and multiple docks available, making it a convenient location for film productions.
Paradise Island, formerly known as Hog Island, is located just off the shore of the city of Nassau on the northern edge of the island of New Providence. It is most notable for the numerous resorts, including Atlantis, which features extensive water park rides, pools, beaches, restaurants, a walk-in aquarium, and casinos. One of the casinos at Atlantis was even used in the filming of 'Casino Royale'.
Bimini is the closest point in the Bahamas to mainland Miami, Florida, United States. Popular activities here include scuba diving and snorkeling, as there are many shipwrecks in the area. The Bimini Airport in South Bimini Island was used as a filming location for "The Silence of the Lambs".
CocoCay or Little Stirrup Cay is one of the Berry Islands, a collection of Bahamian cays and small islands located north of Nassau. It is used for tourism by the Royal Caribbean Group exclusively. A family trip or vacation movie would be great to shoot on this island.
Ben's Cave is one of the two inland blue holes within The Lucayan National Park. This natural feature is definitely a sight to see, and a dive into the cavern is a visit to the ancient past. Noted you must be a professional diver to dive here, but to get a look from underwater like this would be a stunning image on the screen in your film.
Film Equipment and Crew in Bahamas
Miami is the closest major production center and can provide all the key crew and equipment your production requires. Mbrella Films can coordinate this process to make it easier for you. We also have English-speaking producers who have worked on numerous film productions with local crews. They will guide you through every step of the production process, from pre-production to post-production in the Bahamas.
Budget for production in Bahamas
Our experienced producers can help you manage your line budget and keep you informed every step of the way. If you're interested in filming in the Bahamas or have any inquiries, please don't hesitate to reach out to us via the form below. Mbrella Films is here to assist you in every aspect of your production.