Ranging from the wildlife and African vibes of many national parks to the coast of beaches, Kenya might be the place where numerous natural sceneries come together in one place. Experience the wildlife including elephants, zebras, lions, and many more you can capture in the country. Also, the traditional local life in many parts of Kenya is worth looking for once you visit. Not many blockbuster-tier film productions were shot here, making the permitting process might take longer than others. Planning time ahead of 2–3 weeks is better for our team to get it done and ready for your production to take off the ground.
With our in-house production at Mbrella Films, we can provide you with English-speaking producers who will work side by side with you during the whole production process. They've got the film board's approval and are also familiar with working internationally with local crew members. They can ensure that your film production would go through untroubled in Kenya. If you are interested in bringing your next film production to Kenya, please feel free to contact us via the form below, or keep reading to find out more about filming in Kenya.
Filming Locations in Kenya
Kenya can offer you a full look at African wildlife, also the spectacular landscape of the field and desert in many parts of the country. Even more than that, the seascape of the coastal city of Mombasa looks amazing, too. Kenya is a country where all the natural landscapes you're looking for are combined here in one country. Not to mention a city of Nairobi that has countless cityscapes for your film production too.
Nairobi is the largest and the capital city of Kenya, famous for its beautiful landscape during the sunset and sunrise. Also, the city combined both traditional and modern architecture throughout the city, making it more interesting for many filmmakers around the world. "Sense 8" a Netflix series was filmed for seasons 1 and 2 here in the city and the movie "Eye in the sky" was also shot here in Nairobi too.
Amboseli National Park is famous for being the best place in the world to get close to free-ranging elephants and other wildlife animals. Also, opportunities to meet Maasai and visit a Maasai village. The park also has views of Mount Kilimanjaro, the highest freestanding mountain in the world. "Lara Croft Tomb Raider: The Cradle of Life" was shot here in this particular park.
Mombasa is a coastal city in the southeastern part of Kenya along the Indian Ocean. It was the first capital of British East Africa before Nairobi was elevated to capital city status. It's the oldest and second-largest city in Kenya. Any film production that is looking for seascapes should check this place out.
Lake Magadi is the southernmost lake in the Kenyan Rift Valley, lying in a catchment of faulted volcanic rocks, north of Tanzania's Lake Natron. During the dry season, it is 80% covered by soda and is well known for its wading birds, including flamingos. It's the perfect location to capture flamingos for weather scenes you may require. "The Constant Gardener" was shot here.
Lake Turkana formerly known as Lake Rudolf, is a lake in the Kenyan Rift Valley, in northern Kenya, with its far northern end crossing into Ethiopia. It is the world's largest permanent desert lake and the world's largest alkaline lake. "The Constant Gardener" was also shot here in Lake Turkana too.
Film Equipment and Crew in Kenya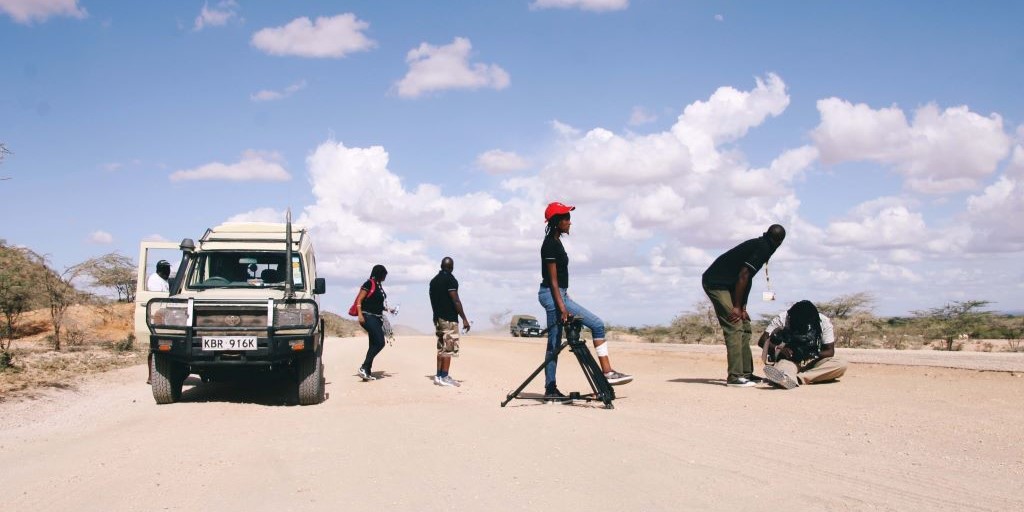 Kenya is still a huge underdog when it comes to the film industry, it's a great opportunity for any film production to capitalize and make great use of the beautiful landscapes that are available. However, the crew and equipment here are second to none. The standard gears, grips, and lighting equipment are available for you to choose from. Mbrella Films can also provide you with English-speaking producers who have over 10 years of experience in film production. They are of high international standards and are familiar with working with international production and local crew members. Mbrella Films can ensure that your film production in Kenya will run smoothly and untroubled in our hands.
Budget for production in Kenya
Kenya can be a perfect destination for your next film production. Based on the very rare locations, it can provide. Our producers who communicate fast and act quickly will give you an entirely detailed breakdown of the line budget and make sure you know where your money goes at every step of the production process. Mbrella can get all of your production needs to be done. Feel free to contact us via the form below, if you're interested in bringing your film production to the next level in Kenya.