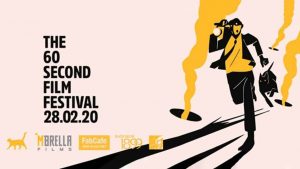 Mbrella Films is proud to announce that we are partnering with The 60 Second Film Festival to promote Creative Independent Directors.
– WHAT IS IT?
The 60 Second Film Festival is a fun collaborative film festival event. The event encourages local and international film community to create short films, a minute long or less (including titles and credits). It is a fantastic opportunity to showcase your creativity.
– WHEN IS IT?
February 28, 2020 at 7 PM – 11:30 PM @ Whiteline Bangkok
– HOW TO PARTICIPATE?
Submit your film by February 20th, 2020:
http://the60secondfilmfestival.com/submit-a-film/
– WHY SHOULD YOU PARTICIPATE?
1. To show off your work and creativity
2. Awesome prizes (Read more to find out more about the prizes)
The 60 Second Film Festival is offering cash prizes in the following categories:
I) 𝗕𝗘𝗦𝗧 𝗙𝗜𝗟𝗠: 20,000 THB
Any subject, any style, all films are considered.
II) 𝗕𝗘𝗦𝗧 𝗙𝗜𝗟𝗠 about our 𝗘𝗡𝗩𝗜𝗥𝗢𝗡𝗠𝗘𝗡𝗧: 20,000 THB
Our air is polluted, world getting hotter, water levels rising. Address these issues in your short, in the form of a documentary, science fiction, comedy, or any other conceivable style, and your film will be considered for this prize.
III) Mbrella Films Award for 𝗕𝗘𝗦𝗧 𝗗𝗜𝗥𝗘𝗖𝗧𝗢𝗥
Up to Two Days of shooting in Bangkok with the following:
1. Production Services for 1 – 2 day shoot including Film Permit and Work Permits for the Shoot*
– Production Manager
– Production Coordinator
– Location Manager
– Camera Assistant
– DIT (crew member who manages the footage on sets downloading, organizing it on hard drives, checks shots for quality)
– 1 PA
2. Post Production Room
– 3 days of editing in post room with editor and color grading at our Mbrella Films' Silom Office
3. Filming Equipment
– 2 x Blackmagic Pocket Cinema 4k Camera
– Gimbal, Wireless Follow Focus and Wireless Video
– Access to our boutique rental house for choosing of equipment for lighting and grip
What are you waiting for? Start getting creative! Visit 60 Seconds Film Festival Today to find out more.
#MbrellaFIlms #FilmMaking #Bangkok #FIlmFestival